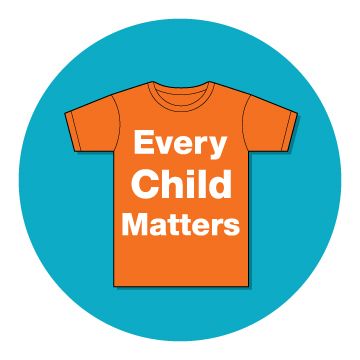 September 30 is the very first National Day for Truth and Reconciliation (as well as Orange Shirt Day); a new national holiday in Canada. It is an important occasion to reflect and have conversations with family, colleagues and friends on all aspects of Canada's relationship with Indigenous Peoples. Canadians now have a new opportunity to learn more about the Residential School experience, and to honour the survivors, their families, and those that didn't survive. It is a day for non-Indigenous people to learn and work towards reconciliation.
Orange Shirt Day was created in 2013 to educate people and promote awareness about the residential school system and the impacts it has had on Indigenous communities. People are encouraged to wear an orange shirt to mark the day.
The Origins of Orange Shirt Day in Canada
Below, Phyllis Webstad explains the story of her experience at Residential School and the origination of Orange Shirt Day in Canada. She discusses the present situation and her hopes for the future.
Many more videos and resources can be found on the Orange Shirt Day website.
Participate in Orange Shirt Day
If you would like to participate in Orange Shirt Day, you can choose to support organizations that donate proceeds from orange shirt purchases to Indigenous organizations. Here are some questions to ask yourself when choosing a shirt:
Where was the shirt made?
Who owns the company who makes the shirt?
Where are the proceeds from this purchase going?
There are many Indigenous-led organizations that are accepting donations through this period such as Reconciliation Canada or Indian Residential School Survivors Society.
Commit to Learning
ADRIA is an organization dedicated to promoting, delivering and improving justice and access to justice in Alberta. We know that we have much work to do and are committed to listening more and learning more as we work to pursue justice, diversity and reconciliation. For more on our commitment to diversity, please read our page on Diversity Matters.
Join us in taking action to mark this national holiday by committing yourself to learning more. You may want to make space in your day on September 30th to take in a variety of learning resources including these below.
As an introduction, Bent Arrow Society in Edmonton has a great blog post on Being a Non-Indigenous Ally.
View the recording of our Indigenous History Month webinar from 2020 featuring Ry Moran speaking about the important work of the National Centre for Truth and Reconciliation or his subsequent presentation about Truth & Reconciliation work in Canada.
Commit some time on September 30th to reading the Truth and Reconciliation Commission Reports.
Watch the ADRIC recordings on Diversity in ADR, including:
Begin the free Indigenous Canada Course at the University of Alberta.
Continue the Conversation
Be prepared to have conversations with the people around you, including the young people in your life who may have questions. How to Talk to Kids About The National Day for Truth and Reconciliation has some tips for having meaningful discussions that move towards reconciliation.
Keep having these hard conversations with your friends, family and colleagues about residential schools and other parts of Indigenous history. Keep the conversation going throughout the year – not just on September 30th.