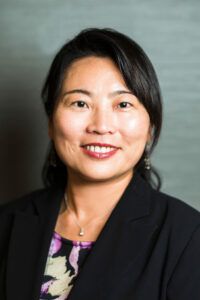 Yoko Azumaya
Designations:
Mediator (Q.Med)
Barr Picard Law

Contact:
780-414-5400
#2500, 10123 - 99 Street NW, Edmonton, Alberta T5J 3H1
Services Offered
Mediator, Divorce & Separation Mediator
Location Availability
Online, Edmonton Area
Sectors of Practice
Family / Eldercare / Parent & Teen
---
Biography
Yoko Azumaya obtained her Law Degree from the University of Alberta in 2007 after achieving a Master's Degree in Neuroscience and a second Master's Degree in Psychiatry. A career path in law seemed to be the obvious choice as it is a profession that combines both analytical skills and a passion for customer service.
Yoko has focused her practice in Family Law, dealing with issues affecting both married and unmarried couples, including divorce, parenting, support, and division of property issues. Her goal is to help families transition through this difficult period. With this objective in mind, she is diligent in explaining not only the law but also the process to her clients to reduce the emotional and psychological stress of the breakup.
Yoko emphasizes the importance of negotiation and settlement to bring fitting results to clients. With the belief that the parties would reach the most satisfactory outcome through interest-based negotiation, she decided to become a mediator.
She joined Barr Picard Law (formerly Barr Picard Knisely) in 2013 and became a partner in 2015. Barr Picard Law is highly regarded for its quality service in Family Law. Yoko is proud to be a part of a Family Law group that has a wealth of knowledge and years of expertise from which to draw from.
Yoko's mother tongue is Japanese, having moved to Edmonton from Hiroshima, Japan in 1998. Yoko has been actively involved in the Edmonton Japanese Community Association and is a past-president of the organization.
Much of Yoko's free time is dedicated to volunteering. At the Canadian Bar Association (CBA) North section, she has been an executive of Family Law section since 2016. She also has been a member of the Law Day committee since 2008. She was responsible for organizing the Family Law Mock Trial in 2015 and 2016 and was a co-chair of the event in 2017 and 2018.
---
ADR Training & Qualifications
Separation and Divorce Mediation:
Spousal Support and Division of Property (14 hours) Jan 2020
High Conflict Mediation: Managing Conflict and Complexity in Mediation (28 hours) - passed June 2020
Mediation Role-Play Practice Sessions (9 hours) Jan 2020
Mediation Role-Play Practice Sessions (9 hours) Oct 2019
National Introductory Mediation (40 hours) - passed Jul 2019
Communications in ADR (40 hours) - passed Feb 2019
---
Other Professional Qualifications
The Law Society of Alberta: 2008
Year of Graduation
Bachelor of Laws University of Alberta 2007
Master of Science Psychiatry, University of Alberta 2004
Master of Science Physiology, University of Hiroshima, Japan 1998
Bachelor of Science Physiology, University of Hiroshima, Japan 1995