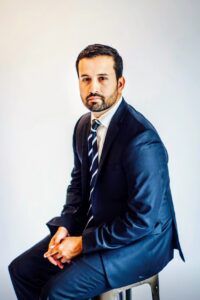 Usman Mahmood
Designations:
Arbitrator (Q.Arb)
Usman Mahmood Professional Corporation
Contact:
4038608572
1144 29 Avenue N.E., unit 106w
Services Offered
Arbitrator
Location Availability
Online, Calgary Area, Central Alberta, Edmonton Area, North Eastern Alberta, North Western Alberta, Southern Alberta, Out-of-Province
Sectors of Practice
Aboriginal / First Nations, Agriculture, Civil Claims, Community, Condominium, Construction / Engineering, Corporate & Commercial, Education, Employee Assistance Programs, Energy / Oil & Gas, Environment, Faith Groups, Family / Eldercare / Parent & Teen, Family Business, General Practice, Government, Group Facilitation, Healthcare, Insurance Claims, Labour, Land Use, Landlord & Tenant, Non-profit Sector / Societies, Real Estate, Sports, Wills & Estates, Workplace
---
Biography
Usman Mahmood is a Lawyer with experience in all levels of Immigration law, Family law, Criminal law, and Civil litigation at the Provincial Court and the Court of Queen's Bench. He is an advocate of access to justice for all. Usman is a board member of Calgary Legal Guidance and Probono Law of Alberta. He is a Tribunal member at the Law Enforcement Review Board of Alberta and a Council Member at the Life Insurance Council of Alberta. He believes that ADR, is the future. Usman has experience in dealing with culturally sensitive and faith-based Arbitration matters. He speaks English, Hindi, Urdu and Punjabi.
---
ADR Training & Qualifications
---
Other Professional Qualifications