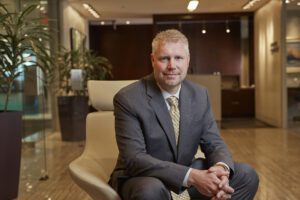 Michael Hokanson KC
Designations:
Arbitrator (C.Arb), Mediator (C.Med)
HMC Lawyers LLP
Contact:
403-261-3331
#1000, 903 8th Ave SW Calgary, AB T2P0P7
Services Offered
Arbitrator, Mediator, Construction Adjudicator
Location Availability
Online, Calgary Area, Central Alberta, Edmonton Area, North Eastern Alberta, North Western Alberta, Southern Alberta, Out-of-Province
Sectors of Practice
Agriculture, Civil Claims, Condominium, Construction / Engineering, Corporate & Commercial, Education, Employee Assistance Programs, Energy / Oil & Gas, Environment, Family / Eldercare / Parent & Teen, Family Business, General Practice, Government, Healthcare, Insurance Claims, Labour, Land Use, Landlord & Tenant, Real Estate, Sports, Wills & Estates, Workplace
---
Biography
Background
Mike is a formally trained mediator, arbitrator and adjudicator with an extensive educational background in Alternative Dispute Resolution.
In addition to his extensive practice as a civil litigator, he has over 200 hours of ADR training. Mike received his C. Med. Designation in 2016, his Q. Arb in 2015, and his C.Arb in 2017. Mediation and arbitration are unregulated fields, and although anyone can label him or herself as a "mediator" or "arbitrator", few have taken formal training in ADR. Mike's formal training in conjunction with his diverse experience as a litigator allows him the creativity to apply a number of different approaches to dispute resolution based on what the parties want, and what the situation calls for.
In particular, he blends components of interest-based mediation with more evaluative aspects in order to provide the services his mediation clients need. He offers flexible arbitration arrangements as well as Med/Arb services. In addition, Mike has been appointed to the ARCANA Roster of Adjudicators for the Alberta Prompt Payment legislative framework.
Mike is a past member of the Conduct Committee and the Assurance Fund Adjudications (Finance Committee) at the Law Society of Alberta and is a past member of the Executive Committee of the Board of Directors at the ADR Institute of Alberta. He is currently on the Board of Directors at Calgary Legal Guidance. Mike is also a member of the Alberta Family Mediation Society where he is registered as a "Practicing Mediator".   He was appointed King's Counsel (formerly Queen's Counsel) in 2022, a title used to recognize Canadian lawyers for exceptional merit and contribution to the legal profession.
Mike was admitted into the Canadian Academy of Distinguished Neutrals, an invitation-only professional association whose membership consists of mediators & arbitrators distinguished by their hands-on experience in the field of civil & commercial dispute resolution, in 2023.
Areas of Interest and Expertise
Mike has had a diverse practice over career as a civil litigator. He is prepared to mediate or arbitrate any kind of dispute. Some areas of interest are as follows:
• Personal Injury
• Family Law Disputes
• Energy Litigation
• Corporate and Commercial Litigation including shareholder disputes and oppression remedies
• Construction Litigation
• Professional Liability and Malpractice
• Employment Law
ADR Philosophy
Mike prides himself on his flexibility in finding and applying the best ADR solutions to whatever is in dispute. Mike's ADR philosophy relates to perspective and is best summed up by Henry Ford: "If there is any great secret of success in life, it lies in the ability to put yourself in the other person's place and to see things from his point of view – as well as your own". -Henry Ford 
---
ADR Training & Qualifications
C. Med Designation--ADRIC 2016
C. Arb Designation ADRIC 2017
Canadian Academy of Distinguished Neutrals 2023
Practicing Mediator, Alberta Family Mediation Society
---
Other Professional Qualifications
LL.B University of Saskatchewan, College of Law 1997